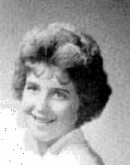 Babione Funeral Home
10060 Calle Comercio Drive, Boca Raton, FL 33428 | 561-483-9500
In Memory of
Carol S Keppeler
October 5, 1943 - July 22, 2013
From Priscilla Virelli
Carol H. Spray
Date Of Birth: Oct-5-1943
Date Deceased: July-22-2013
Age at Death: 69
Cause of Death: illness
Classmate City: Boca Raton
Classmate State: FL
Survived By: Two sons, Greg and Jeff and their families; a daughter Allison and her husband; a granddaughter, Zoe; her brother Jimmy Spray

Carol was my dearest friend when I moved to Lake Forest in the 7th grade and what a time we had! She could make a person smile on their worst day. She and George moved to Florida after the birth of their 3rd child, Allison. After George passed away, suddenly, Carol moved in with Allison and her family. Carol never got a decent hand dealt to her when it came to health issues. She suffered constantly with many different things but she never complained and never lost her sense of humor or her devout faith.