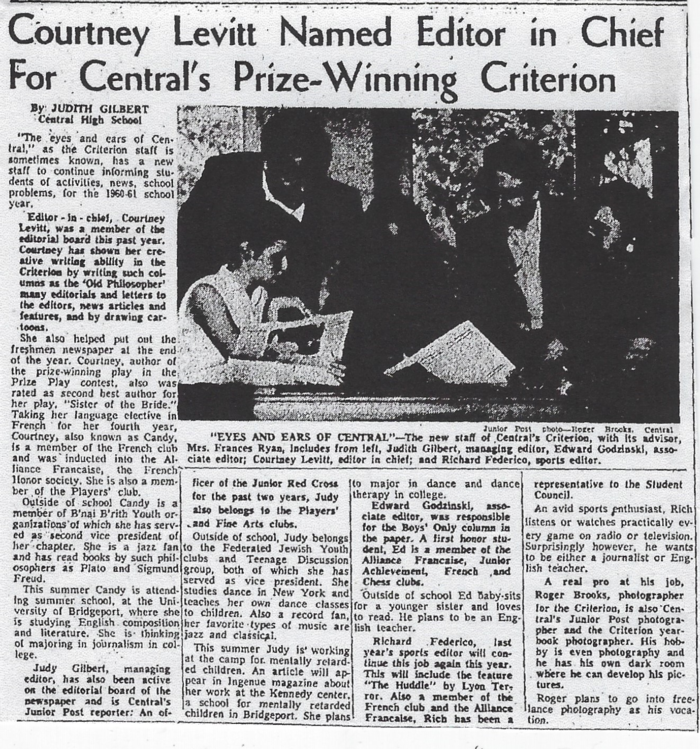 Joseph J. Marzulli
In 1940, Joseph, then age 8, was living with an aunt and uncle on Washington Terrace in Bridgeport. The uncle, James Marzulli, was the proprietor of a restaurant and a musician, so maybe music was in the family from the very beginning. Joseph James Marzulli was a much loved music teacher at CHS. It was easy to find an obituary for him, but when I read it, I realized that there was probably much more to Mr. Marzulli than those few paragraphs. My research proved me right!
As a student at Central High School, he was on the football team and in the prize winning CHS orchestra! (A side note here: in the photo of the orchestra, Miss Ducsay is standing on the right – does anyone remember her?)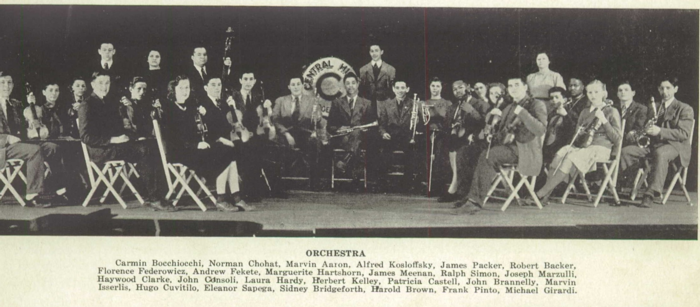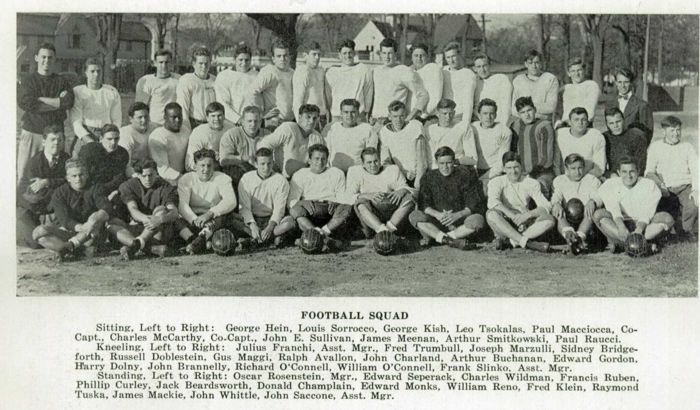 After high school, Mr. Marzulli joined the US Army attaining the rank of Staff Sergeant. I could not find the exact date when Mr.Marzulli joined the faculty at CHS, but what I did find were literally hundreds of newspaper articles detailing all the events in both the school and the community in which he and his students participated. First as an instructor of music, and then as Director of the Music program at Central, Mr Marzulli took his talents and his talented musicians everywhere, including trips to music festivals in Virginia, Florida, the Virgin Islands, and Bermuda!
Here is the obituary of this extraordinary man and I think you will agree with what I said earlier, there was a lot more to him than these few short paragraphs indicate.
MARZULLI, JOSEPH J.
Joseph J. Marzulli, age 78, of Trumbull, a retired director of Music and Performing Arts for the Bridgeport Board of Education, died Sunday, March 21, 2004, at St. Vincent Medical Center, Bridgeport. Born in Bridgeport on January 7, 1926, he was a son of the late James and Josephine Burlant Marzulli, and was a Trumbull resident for 45 years.
Mr. Marzulli was a World War II U. S. Army veteran. He was a member of the Connecticut Musicians Union and played many musical instruments for several local bands and was conductor for the American Festival Concert Band. He truly enjoyed writing, arranging and composing music and spending time with his family.
He was predeceased by his wife, Sandra Burghardt Marzulli. Survivors include two sons, J. Christopher Marzulli and his wife, Nancy, of Trumbull, and James H. Marzulli of Stratford; three grandchildren, Cassandra Lee, Samantha Sarah and Nicole Gloria. Funeral services will take place on Thursday, March 25, 2004 at 10 a.m. from the Abriola Parkview Funeral Home, 419 White Plains Road, Trumbull, and at 11 a.m. in St. Theresa Church, Trumbull for a Mass of Christian Burial to be followed by interment with military honors in St. Michael's Cemetery, Stratford. Friends may call on Wednesday from 4 to 8 p.m. In lieu of flowers, those desiring may make memorial contributions to the American Diabetes Association, the Kidney Foundation or the American Heart Association through the funeral home.