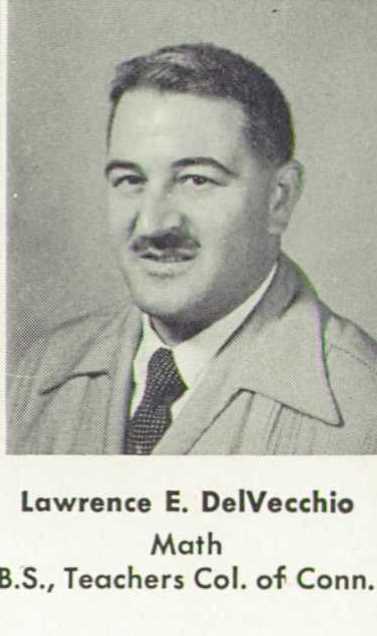 Born in Bridgeport on December 26, 1920, Lawrence DelVecchio was the son of Fidele and Angelina Codella DelVecchio. He served in the Navy during World War II on the USS Denver, and, after the war, married a registered nurse, Miss Shirley Ruth Baker. Mr. and Mrs. DelVecchio were the parents of 8 children. A proud resident of Shelton, Mr. DelVecchio lived at 8 Judson Circle for nearly 52 years until his death at the age of 90 on February 11, 2011.
Mr. DelVecchio was a Math teacher at Central. Researching his history in the field was very different from what I found for others featured on the site. In the Bridgeport City Directory for 1956, he is working in industry. In 1957, he appears as a member of the CHS Math Department, but it isn't until 1959 that he is formally hired by the Board of Education. It is also in 1959 that he is selected to attend a Summer Institute for Secondary Teachers of Math at Fordham University under a grant from the National Science Foundation. However, teaching was apparently not his first love because he left the field in 1961 to go to work for Avco Lycoming where he stayed until his retirement in 1985.
It is most interesting to me that a person who didn't stay in teaching had such an influence in the classroom that over 50 years later a former student asks about him!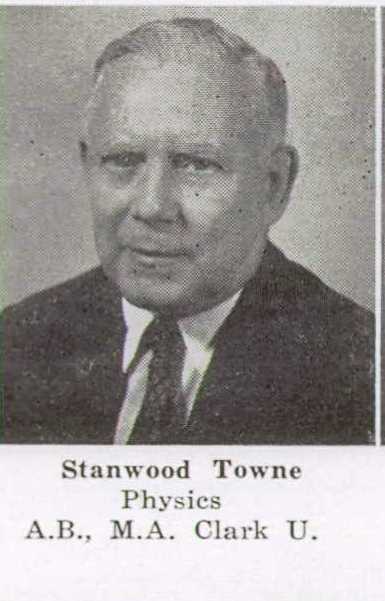 Stanwood Bartlett Eugene Towne was born on May 23, 1902 in Worcester, Massachusetts. According to his WWII Draft card, he had blue eyes and gray hair. Well, I could agree with that description because that is how he looked nearly 20 years later as a teacher at CHS. Some of you have remarked that he was an exellent teacher and a very nice person as well and my research confirms this.
Mr. Towne was married to Doris Moorhouse Towne, also a teacher, and they had a daughter and a son. The family lived at 47 Atwater Street in Bridgeport. A graduate of Clark University in Worcester, Mr. Towne taught chemistry and physics at Central for 39 years. He was also an instructor at Tufts University in Medford, MA.
Mr. Towne and his wife were active volunteers with the Bridgeport Red Cross, and when a devastating flood struck Ansonia in 1955, they were on the front line of helpers collecting and delivering clothes, food, and aid to those in need. The Townes were staunch supporters of the Bridgeport Symphony as well as members of the Bridgeport Bridge Club. As a member of the First Baptist Church, Mr. Towne served the congregation over the years in a variety of offices.
At Central, Mr. Towne served as an advisor to several clubs and organizations and I found an article an article from 1962 which reported that Mr. Towne and a student, Martin J. Rosenberg, were among 28 teachers and students from Connecticut sent to Chicago to participate in The National Youth Conference on the Atom. Another experience for this scientist-educator was a teacher/student tour of Harbor Station in New Haven where he remarked about his "amazement at the derivation of electricity from atomic power."
I had a personal experience with Mr. Towne in 1963 when I had occasional to shop at Michael's Jewelers on Main St. in Bridgeport where he worked part time. Mr. Towne was indeed very nice and a perfect gentleman, not just in his appearance, but in manner and character as well. Stanwood B. Towne passed away at the age of 64 in November of 1966. He is buried in Lawncroft Cemetery.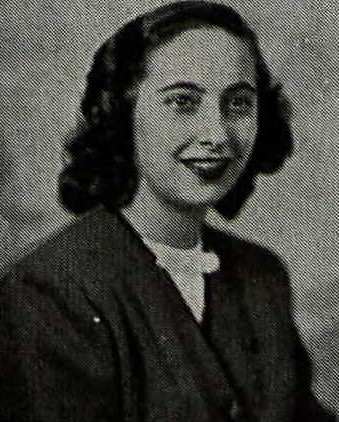 Mrs. Camille Reale
Camille Palmer was born in Bridgeport, Connecticut on July 6, 1929 to Joseph and Jennie Palmer. She attended Bridgeport schools, graduating from Central High School in 1947. She went on to Teachers College of Connecticut in New Britain where she earned her B.A. and then got her M.A. at Fairfield University. On November 17, 1958, Miss Palmer became the wife of John Reale, also an educator. They lived at 55 Waller Road in Trumbull.
Mrs. Reale was a member of the Commercial Department at Central, and taught Secretarial Science. She was at CHS for two of our years there, and, in 1959, she asked for and was granted a leave of absence.
In 1973, Mrs. Reale became a member of the staff of Sacred Heart University. By 1976, she was an Assistant Professor at SHU and was a well known speaker in the region frequently invited to talk about the latest equipment available for a word processing major.
The Reale family included a daughter and 3 sons. The sad news of the death of her daughter, the child that was the reason for that leave of absence back in 1959, revealed that Mrs. Reale, whose husband passed away in 1985, still lives in the family home on Waller Road. Those of you who remember her might want to send a card. There is, of course, no guarantee that she will remember you, but it might be uplifting for her to know that she had a positive effect on a young person so many years ago.
An update: Mrs. Reale is on Facebook!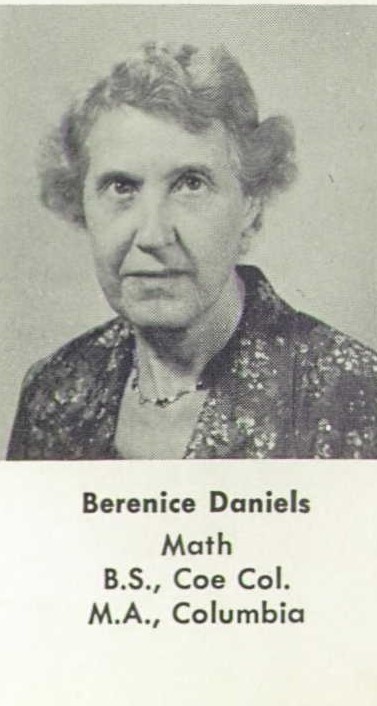 Berenice Daniels
Nancy Pavone Ryan shared that Miss Daniels was willing to stay after school with her to help Nancy master geometry. That motivated me to include Miss Daniels in our site feature on favorite teachers. This proved to be a very interesting research project! All I can say is, what a woman!
Miss Daniels was born on October 19, 1895, the first child of T.A. Daniels and his wife, Mary Ellen Yeisley Daniels. The Daniels were farmers in Marion, Iowa. She graduated from Springville High School in Iowa in 1913, and received a B.S. degree from Coe College in Cedar Rapids, Iowa in 1917. She did graduate work at the University of Iowa, the University of Wisconsin, and Teachers' College, Columbia University.
In 1927, Miss Daniels was formally appointed to a permanent position at Congress High School, the precursor to Central. This article summed up all of Miss Daniels previous positions as a teacher of mathematics: high schools in Lowden, Fremont, and Springville, Iowa; the junior high school in Athens, Ohio; the high school in Orlando, Florida, as well as the previous year as a replacement teacher at Congress High. The explanation was given that Miss Daniels had always been a replacement teacher and had not been kept on when the vacancy no longer existed. There seemed to be no doubt that she was a fine teacher, it was just that circumstances were not working in her favor. What struck me was how she was able to find these various jobs given that they were all over the country, and I wondered if there was some kind of network. It is something that we take for granted today, but how did it work in the 1920s? Miss Daniels' annual salary for the 1927-28 school year was $2000.
When she first arrived in Bridgeport, Miss Daniels lived on Laurel Avenue in Bridgeport where she was a lodger in the home of William and Victoria Phillips. By 1940, Miss Daniels had acquired her own home on Huntington Turnpike.
Berenice Daniels was very active at Central. She served on various committees and was considered an outstanding teacher. She retired at the age of 66 in 1961, the same year that we graduated. Retirement did not mean being idle for our Miss Daniels and newspaper articles for the next 30 years recount her adventures – and I do mean adventures! Miss Daniels was an avid photographer and traveler. Over the years, she did slide shows for various groups from her trips to Russia, India, the Holy Land, the Mediterranean, Canada, Puerto Rico, Southeast Asia, and I am positive I missed a few more. And, for at least one of these presentations, she was dressed in the garb of the featured country!
By 1973, Miss Daniels was living at 3030 Park Avenue which is still a prestigious home for senior citizens. As President of the Residents' Association, among other things, she arranged for a debate between the candidates for Mayor of Bridgeport. Over the years, she was a member of and often served as an officer at her church, First Baptist, the Delta Kapa Gamma Honor Society, and the Greater Bridgeport Retired Teachers Association.
Berenice Daniels died on April 29, 1987.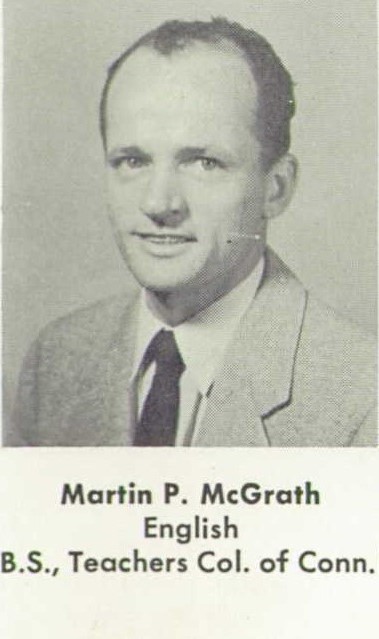 Martin Patrick McGrath
Way back in January, I started the write up for Mr. Martin McGrath, one of my favorite teachers and one requested by several of you. My research turned up one of his daughters on line and we had an exchange of messages. I started to use what she gave me to create the article for this part of our site, but I wasn't happy with my results. Then, today, I had a revelation! Why not just post the exchange between Mr. McGrath's daughter and me? So here you are, and I hope you enjoy it as much as I did. Side notes: Mr. McGrath was born on Dec. 13, 1926 in Torrington, CT to Martin Ambrose McGrath and Mary A. Doherty. He served in the Army from 1938 - 1944. Mr. McGrath was married to Theresa Rapice McGrath who was also a teacher. They lived at 75 Clark St. in Bridgeport, and they had 8 children.
Hi Maureen,
I am the site administrator for the Central High School Class of 1961 website. One of the features I am doing for the site is creating an informal bio for "favorite teachers" and Mr. McGrath is one of them. I found some basic material from old newspapers, vital statistics, and a photo from an old yearbook, but I was hoping you could help with more information. For example, how long did he teach at CHS, any stories related to his teaching, his obituary, family remembrances, hobbies (I found the bowling story!) I really hope to hear from you.
Gloria Williamson Moreau CHS 1961
Hi Gloria,
Where to begin? Dad taught for about forty years, most of them at Central. He retired in 1991. His close friends included Andy Karsich, Jim Roche, John Sobeiro, and Joe Marzulli.

Please tell me more about the bowling story. Is it about the famous and sacred bowling bulletin?

Dad died 12/10/2001 so you can check the CT Post archives/Legacy for his obit.

As far as stories-He was one of the first to be arrested during the teachers' strike in '78 I think it was. He started a bulletin called The Daily Glue to chronicle the events including those days at Camp Hartell.

Dad was the son of Irish immigrants and was proud of his heritage. One year, maybe '77, he dyed his hair green for St. Patrick's Day. I was known at school as the daughter of the teacher with the green hair. The one who yelled, "One Minute!" every morning in B corridor.

At his retirement roast Jim Roche talked about my father's philosophy on sick days. "Never take one when you can take three," he said. "If you take just one, they won't believe you." I or one of my sisters would have to make the "magic phone call" whenever he was going to be out.

As far as hobbies- He was a voracious reader, mostly of fiction, thrillers, sci-fi, basically anything well-written. Robert Ludlum was one of his favorites. Reading is one of the greatest gifts he has given me.
He did the NY Times Sunday crossword in ink every week. He would call with a question on movies or music or whatever the special subject area of which ever child or in law and you were only as useful as your answer. If you didn't know he'd say something like, "Ah, what good are you?" and then laugh. He was a sarcastic son of a bitch, LOL.

I could go on and on but I'm not sure how much or how little you need. I'm happy to tell you more as he is one of my favorite subjects. God, how I miss him!

Regards,
Maureen Agresta
Hi Maureen,
What a wonderful response! Thank you so very much. When I get it up on the site, my classmates are going to love it. Anthony Capezzalli is the "kid" who asked me to profile his favorite teacher, Mr. McGrath. I would also have called him a favorite because I had him for English in sophomore year and loved him. I was extremely shy, and although I was a good student, it was painful for me to speak in front of the class. He made me do it, but he was kind about it, and I never forgot it. I actually went on to do lots of public speaking, and thanks to your dad, I got better and better at it to the point where it actually became enjoyable.

From my student perspective, Mr. McGrath was always cheerful, never grumpy or grouchy, and back in those days, that, to me, seemed exceptional. Some of them seemed to think smiling was a sin!

What you have given me is more than enough for a good post. It sounds like he was a great dad, and you have been blessed with lots of good memories.

Again, I thank you and hope the New Year brings you all good things.

Gloria Williamson Moreau CHS 1961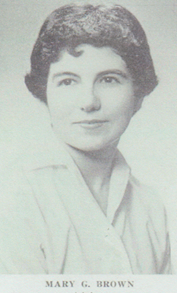 MARY GEANEY BROWN
Dennis Watkins remembers Mary Brown as an outstanding teacher. Mrs. Brown taught math and Dennis recalls her willingness to ensure that her students understood the concepts she was teaching. "Try another way" is part of current teacher training, but I don't remember many of our CHS teachers using that approach. Maybe it was happening all over CHS in our day, but I can honestly say that I never experienced it. Mrs. Brown was one of those who went beyond the text book and who stepped out of the old school traditional teacher role so that no one left her room without knowing the material. She was an inspiration to Dennis who also went into education and I suspect that he was one of the best, using her as a role model.
Mary Geaney was born in Bridgeport in 1933, the daughter of George Joseph Geaney and Frances Cuneo Geaney. She was attended Laurelton High School and later the College of New Rochelle where she received a B.A. in Math in 1954.
I was not able to find a lot of information about Mrs. Brown. I know she married Robert J. Brown who worked for Sikorsky's. Her job at Central in 1954 when she joined the Math Department was her first teaching position. She and her husband lived at 2755 Main St. in the north end of Bridgeport near St. Vincent's Hospital, and they were members of St. Patrick's Church. The Brown's had 3 daughters, one of whom had special needs and died at an early age.
Mr. Brown passed away in 2015, and at the time of his death was a resident of Trumbull, CT. Mrs. Brown was listed as a survivor along with two daughters. I have tried contacting all three of them with no luck. Right now I have a message out to another relative and maybe I will hear from that person. Dennis has expressed interest in contacting her and I am sure it would a wonderful experience for her to know that after all these years, she is still remembered. If any of you had her, maybe you can share your memories, too.
John Edwin Holley was born on Febuary 27, 1925 in Bridgeport, Connecticut. His parents were John B. and Inez Holley.
Mr. Holley grew up in the neighborhood served by Harding High School where he was a star football player. On February 27, 1943, as soon as he turned 18, he signed up for the military, and joined the Marines after graduation.
When he returned from the war, he went to the University of Bridgeport, earning a B.A. in Physical Education, followed by an M.A. from Fairfield University. He started his career at Central in 1956 where he taught physical education and health, and also acted as the advisor to the cheer leading squad. " Jolly" Holley (thanks, Ruth Johnson Colquit!) was well liked by the student body in spite of his famous paddle. Break one of his rules and there was a swat or two waiting for you!
Mr. Holley had high aspirations for his subject matter. In an article in the Bridgeport Post in 1961, he stated that physical fitness, not recreation, should be the goal of a physical education program. "It is a shame to see that boys are doing 35 or 40 sit-ups here in America, when English girls average 99!"
In 1976, having earned a Master's degree from NYU to become certified as a school administrator, Mr. Holley returned to his alma mater, Harding High School, to become an Assistant Principal. This was his last long term assignment in the Bridgeport Public Schools. Mr. Holley passed away one day before his 62nd birthday on February 26, 1987.
John Holley was married to Louise Combs. The family lived at 355 Birmingham St. in Bridgeport where they raised 3 daughters all of whom excelled in both academics and sports at Central.
Jean Gallagher Wheeler
Our Miss Gallagher was the daughter of Anthony and Elsie Gallagher. She was born in New York City on January 7, 1925. Jean moved to Connecticut at an early age, residing first in Bridgeport and then in Fairfield, where she lived most of her life. She graduated from Marymount College in Tarrytown, NY. At graduation, she was awarded the Mother Butler Cross for outstanding character and contribution to the college. Jean received a Master's Degree and a Sixth Year Certificate from Fairfield University. She began her career in education as an English teacher at Harding High School, and, in 1959, became head of the English Department at Central High School. In 1968, Miss Gallagher became the wife of John W. Wheeler, and they lived in Fairfield, Connecticut. Miss Gallagher, now Mrs. Wheeler, did not stay in education as an English teacher. She went on to complete her certification in guidance, transferred to Stratford High School, and then to Darien High School, where she worked as a Guidance Counselor for the rest of her career. In retirement, Jean enjoyed helping others, playing Bridge, and reading as well as breeding and showing Bichons Frises. Two of her dogs achieved championship status and were shown at the Westminster Dog Show. Jean's friends and family recalled that she had a generosity of spirit that was truly inspiring. She always placed the interests of others before her own. Those of you who had her as a teacher have expressed strong admiration for her abilities as an educator. Miss Gallagher (Mrs. Wheeler) died on February 11, 2008. In addition to her husband, Jean was also survived by three stepchildren, Jack, James, Elizabeth, and their families.
I found an interesting photo of Miss Gallagher in the 1942 Yearbook. Miss Gallagher was a CHS graduate!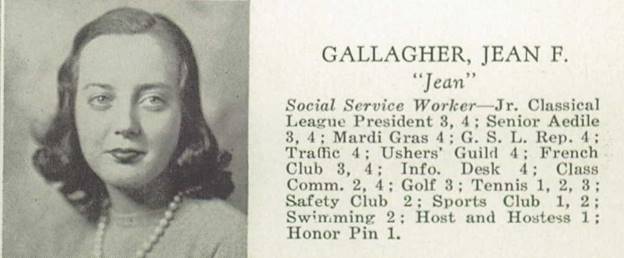 Mr. Matthew Huminski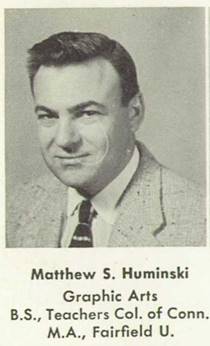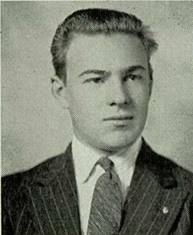 .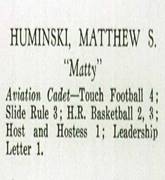 Mr. Matthew Huminski was born in Bridgeport on February 20, 1926. His parents were Polish immigrants, Alexander and Stella Huminski who lived on Atlantic Avenue
He enlisted in the Army in March of 1943, and left for war immediately after graduating from Central High School, and was discharged in February of 1946.
A graduate of the Teachers' College of Connecticut, Mr. Huminski received his Master's Degree from Fairfield University and taught Graphic Arts. He may have taught other subjects within this curriculum, and perhaps one of his former students can add information here.
Matthew Huminski was married twice. His first marriage to Gertrude Federowicz ended with her death in 1971. They had three sons, Gregory, Glenn, and Dale. Of the three boys, the eldest, Gregory, became a Catholic priest, ordained in May, 1980. He served in several parishes in the Bridgeport area and held many other diocesan positions including a position as a teacher at Notre Dame High School. Father Huminski passed away in 2010. Dale Huminski now lives in Trumbull, CT and Glenn lives in Sarasota, Florida.
His second marriage took place on December 23, 1974 when he married Sarah Pagluiso. They continued to live at 135 Colony Avenue in Trumbull for many years. Mr. Huminski's wife, Sarah (Sally) died in February, 2001. Sadly, Mr. Huminski has also passed away, he died on December 17, 2001 at the age of 75.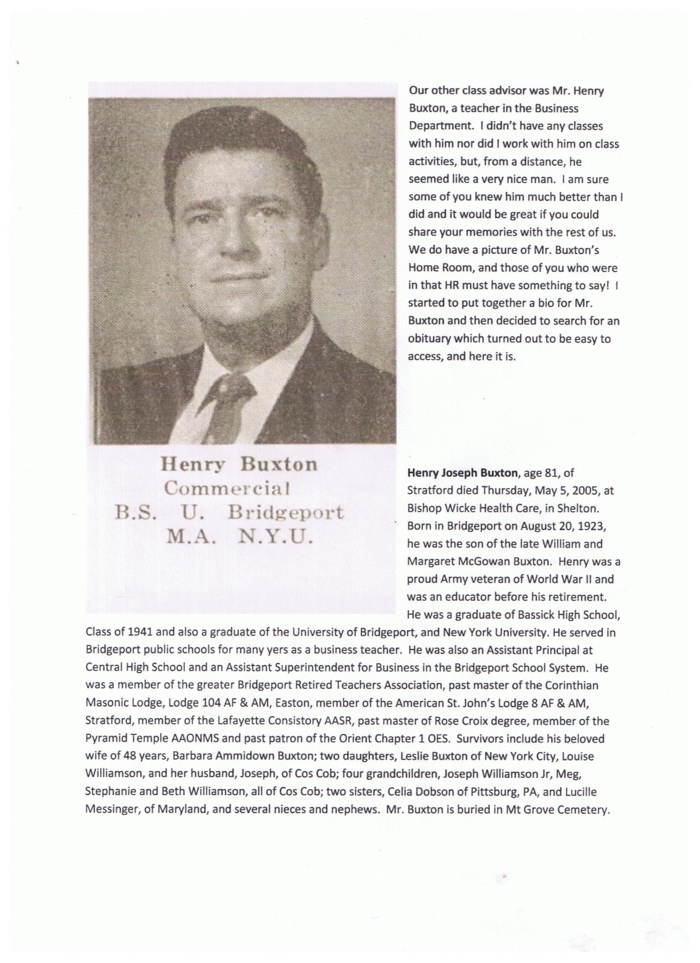 .