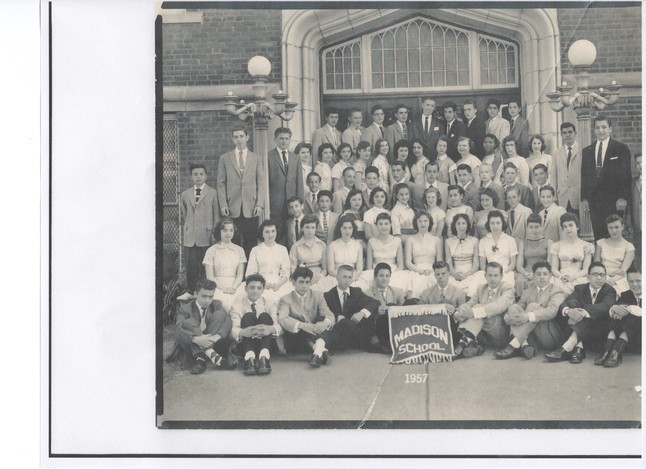 Madison School, 1957, contributed by Vincent Pavone.
Row 1, Left to Right: 1-Vincent Pavone 2-Ray Noble 3-Robert Verilli 4-? 5-Philip Churko 6-William Burke 7-Joseph Braca 8-Douglas Gentile 9-Barry Dvorchik 10-Richard Eichner
Row 2, Left to Right: 1-Nancy Esposito 2-Susan Massey 3- Sharon Boncek 4-Joan Gelormine 5-Rita Milo 6-Carol Ponzetti 7-Nancy Mainero 8-Susan White 9-Janet Valenchik 10-Marie Coletta 11-Carol Pinto
Row 3, Left to Right: 1-Richard Aurillo 2-Joseph Yacovacci 3-Mary Yrus 4-Claire Benedetto 5-Linda Waterman 6-Judy Gilbert 7-Leonora Sherman 8-Anne Marie Tatangelo 9-Michael Glouna 10-Pande Crist
Row 4, Left to Right: 1-? 2-Len Toigo 3--Ken Kaufman 4-? 5-Bob Giordano 6-John Vitino 7-Joseph Bunousky 8-? 9-John LeDonne 10-Bob Buebendorf 11-James Massey 12-Richard Williamson 13-Alvin Golub 14-Paul Tantamonica 15-Art Paternoster
Row 5, Left to Right: 1-Audrey Athanis 2-Barbara Schiappa 3-Pat Uliano 4-Teddy Bufferd 5-Iris Gelber 6-Angela Cascio 7-Eleanor Piazza 8-? 9- Edith Butler 10-Doreen Rucker 11-Jacquelin Jones 12-? 13-Joe Falco 14-?
Row 6, Left to Right: 1-Peter Yacovacci 2-Charles Vidoli 3-Robert Egan 4-Stuart Lev 5-Irwin Hauseman 6-Frank Pezzelli 7-Steve Butcaris 8-? 9-Ed Esposito