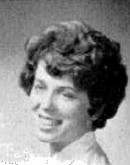 Sandra Eva Belval was born on August 31, 1943 in Burlington, Vermont. Her parents were Henry Jospeh Belval and Cleo M. Amour Belval. Snadra was the fourth child in the faimily. She had 4 brothers, Harold, Richard, William, and Robert, and one sister, Patricia.
After high school, Sandra worked as a sales clerk for Celine's, later becoming Assistant Manager.
On September 14, 1963, Sandra married Edward Harold Moody at St. Stephen's Church in Trumbull, CT. They lived at 10 Teller Road in Trumbull. Edward Moody worked for A & P Grocery Co.
Sandra and Edward moved to Massachusetts in 1972. They lived in Rowe, MA.
Sandra died on September 11, 1983. She is buried in Riverview Cemetery.