Opinion: Remembering a true son of Bridgeport
Mike Soboeiro
Dec. 4, 2022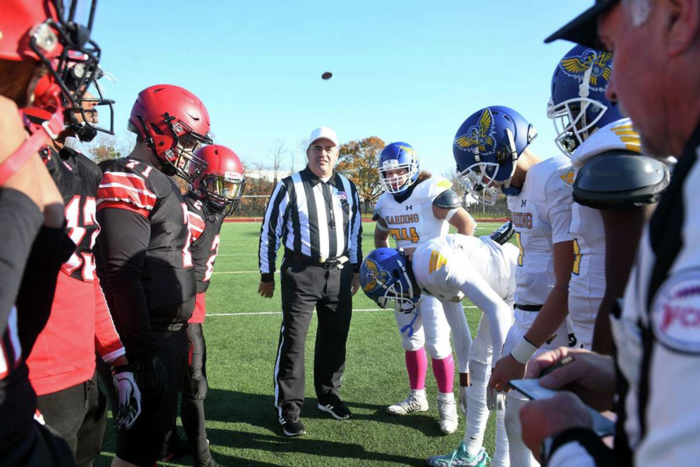 A referee flips the coin prior to kickoff of the annual Thanksgiving Day game between Central and Harding High School, at Kennedy Stadium, in Bridgeport, last month. Ned Gerard / Hearst Connecticut Media
Reading "Central-Harding: A Thanksgiving Rivalry" (Nov. 20) caused me to reflect on my dad, John Soboeiro, who we lost more than 22 years ago. He played in that game four times (1951-1954), was an assistant football coach under Ed Reilly at Central, and then ran the game for many years in his role as athletics director at Central. Just as the Central-Harding rivalry exemplifies many of the qualities of Bridgeport — the neighborhoods, the ethnic groups, immigration, working-class values — my dad was also a living example of many of Bridgeport's qualities. I would like to think he personified Bridgeport.
My grandparents moved to Bridgeport from Portugal in 1925, escaping a land where they were starving and repressed for a place of possibilities. As they grew their family, they moved from laboring to running a boarding house to owning a rooming house. Bridgeport offered them a foothold in a new land, and the opportunity to turn hard work into success, as it has for many immigrant families over the years and still does today. Bridgeport isn't your rich uncle who gives you a hundred-dollar bill for Christmas, it's your miserly one who begrudgingly gives you a nickel after you work in his yard all day.
My dad was born in 1936 and bore the scars of the Depression during which he grew up. His parents never finished grade school, but he and five of his six siblings graduated from college. When he left Bridgeport to attend Temple University in 1955, he told me that he almost got back on the train in the Philadelphia railroad station because of his fear of this new experience. But instead, he did what his Bridgeport upbringing taught him: summoned courage, persevered, worked hard and succeeded in graduating.
He was a teacher, coach and athletics director at Central for 38 years and also ran the adult evening school. He had a soft place in his heart for kids, or adults, who were struggling to work their way up just as his family did. He helped countless Portuguese immigrants, but also Puerto Rican, Cuban, African American, and Italian ones succeed in getting their educations and supporting their families.
For my brother and me, his guidance was straightforward and clear. Work hard in school and at life. No one is going to give you anything. Move to the next rung. Have a better and easier life than I did.
I think it's possible to attribute values to a place. The Bridgeport that my dad and I grew up in didn't appreciate wealth, pedigree or boasting. It appreciated struggle, hard work, family, endurance and grit. My dad, who lived his entire life in Bridgeport, shared these values with the city he lived in and used them to help countless other survive and advance. He was a true son of Bridgeport. I suspect there are others just like him. Your teacher. Your doctor. Your pastor. Maybe you?
Mike Soboeiro lives in Raleigh, N.C.
Comments from the Class
Gloria, What a great story written by a CHS grad - not to mention his dad! I will forward this to all that I know from Bridgeport - some Puerto Ricans, some Portuguese, some Italians, etc. All products of the hard working ethnic gang from Bridgeport. Thank you so much! Milt Levine
Loved the article! When we had to move because I95 was taking our property we owned a parcel in Lake Forest. My father thought this was better than sliced bread...
"Listen, we will live on the Lake and you can go swimming all summer and, you will go to a brand new grammar school only a short walk from home." This, of course was William Samuel Johnson. We did not look at moving from Stratford to Bridgeport as anything but great.
Growing up in this city of blue collar workers, in such a diverse population was a lesson in life for sure. I learned to eat Pizza! It was from a place in the Hollow...I believe the name was Jenny's....my husband's family lived on Grand Street. The best bakeries ...still the best and now there are Portuguese restaurants and bakeries to enjoy.
Central vs Harding...a wonderful part of our High School memories.
Thanks so much for sharing the article, Gloria.
Merry Christmas everyone, Priscilla Ritchie Virelli